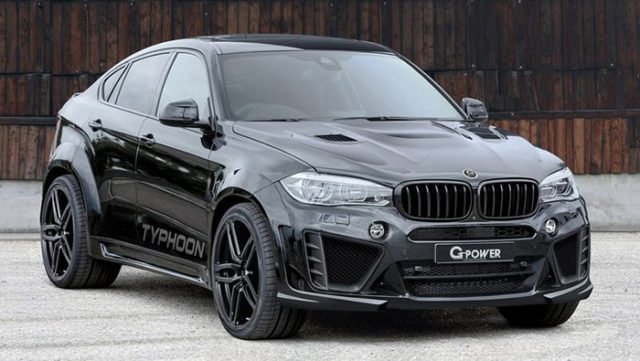 If you ranked the tuning programs for the BMW X6 M, few would probably argue that G-Power' s Typhoon kit ranks among the best of them. The German tuner's widely recognized program for the German coupe-SUV has continued to provide thrills for those who avail of it. The latest iteration promises to do more of that as G-Power is offering an output increase of 750 horsepower and 723 pound-feet of torque. You don't need to be an auto engineer to know that 750 ponies means serious business, no matter the car.
But let's not get caught up with G-Power's engine program for the X6 M. It's impressive by any stretch of the imagination. It's just not the only thing impressive about the Typhoon kit. The program also comes with a wide body kit that includes the tuner's iconic carbon fiber Venturi hood. Oh, and let's not forget about the wheels. True to form, G-Power is also offering a variety of wheel choices, including an exclusive option that's somehow considered an upgrade over the already impressive lineup of wheels that the tuner is offering.
It goes without saying that tuners don't always live up to the expectations of aftermarket customers. But if there's a BMW tuner that has earned its reputation over and over again, it's G-Power. By sheer record alone, it's hard to argue against G-Power's place in the hierarchy of BMW tuners.
G-Power's engine modification package for the X6 M is about as comprehensive as it's going to get. The German tuner initiated the proceedings by modifying the X6 M's existing turbochargers and replacing the standard compressor wheels with larger versions of themselves, helping improve the throttle response coming from the coupe-SUV's 4.4-liter, twin-turbocharged V-8 engine. Bespoke exhaust turbines have also been added into the mix, allowing for extra boost pressure, which in turn results in increased power and output from the V-8. Speaking of the exhaust, the tuner's flow-optimized sports exhaust system is another crucial part of the engine kit. The exhaust is mated to sports catalytic converters and stainless steel exhaust downpipes to help deliver that richer and purer sound from the V-8 engine.
On the other end of the engine upgrade is the software modification. This is where the tuner's tried and tested Bi-Tronik 2 V3 ECU remap module comes into the picture. Taken together, the entire modification on the engine results in an output of 750 horsepower and 723 pound-feet of torque, enough power to help the X6 M cover a quarter-mile in just 11.5 seconds. Top speed has also been increased to over 186 mph.