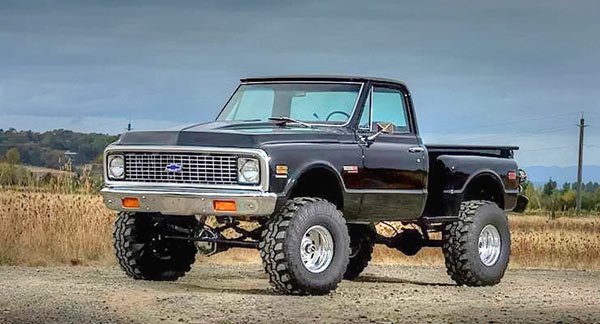 A bare bones, original paint, one owner, step side 72 was traded in at Romania Chevrolet in Eugene in 1996 that Jon caught wind of. The well cared for truck had a severe motor knock after it was taken out by the owner's grandson for a joy ride…so it was traded in for a new truck. Once in Jon's possession he immediately began working on it, but as soon as his good friend Tony laid eyes on the un-molested truck, he was in love…so Jon agreed to sell it to him.
Tony continued to make steady progress on the truck until Jon decided to part ways with his wicked 55 Chevy post car. As much as Tony loved the 72 truck project…he also had a deep affection for Jon's 55, and it was a driver…so another deal was struck between the friends, and Jon was once again the owner of the truck project.
At this point in Jon's life his hobby of classic cars had grown into a successful business known as MetalWorks Classic Auto Restoration, so he had the shop take over the trucks' restoration. Tony had come to work for Jon, so the pair were both able to be involved in the balance of the truck's build. The goal was to make the truck look totally factory, so great strides were taken to achieve that vision.
A 402 was utilized, but pushed forward to ensure factory mounting locations for the transfer case. The big block was fully dressed with stock A/C, shroud, powering steering, etc, and backed by a turbo 400 transmission adapted to the factory 205 transfer case with an Advanced Adaptors kit.
The trucks factory wooden bed was replaced with a steel floor from a ¾ ton long box, but in a fashion that appears factory…it was then Line-X coated. Once the entire truck was mocked up, it was blown apart and its body work tackled. As you can see in the photos…this is one amazingly arrow straight paint job, and the red Hounds Tooth interior looks unbelievable paired against the deep black.
The truck was completed and ran as good as it looked…for a short while. You have to remember this was the early 2000s and engine oil was going through a transition period, and it didn't take long for the big blocks non roller cam to go flat with the lack of zinc protecting it. So with an expensive lesson learned that builders around the nation faced, Jon pulled the 402 and swapped it for a 454 that was once again detailed to factory perfection.
Source: metalworksclassics.com