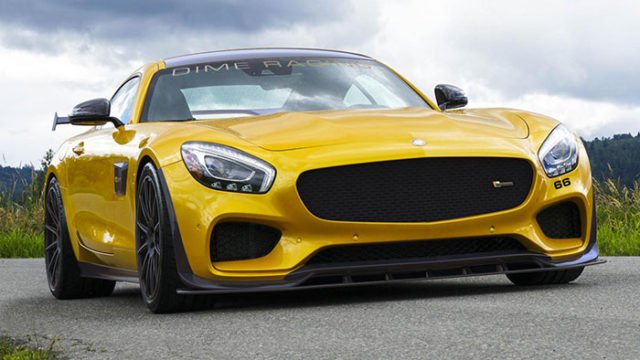 If you want a Mercedes-AMG GT, you have a few options. The standard 462bhp twin-turbo V8 car, the 510bhp twin-turbo V8 GT 'S', a 549bhp AMG GT 'C' Roadster, and of course, the banshee 577bhp GT 'R'. All very fast and lovely.
But if you live in the States, you have another option. Dime Racing is an AMG racing and performance tuner (it runs an SLS in the Pirelli World Challenge), and has announced a street-legal, modified AMG GT you can order direct from a few Merc-AMG dealers. And it's packing… 745bhp.
More than the GT S. More than the R. More even, than Mansory's one-off 720bhp version. Mad, then.
All we're told at this stage is that it features an 'upgraded' engine, so expect tuning of the turbos, the cooling, injection and ECU. There's more, in the shape of redesigned suspension, a new aero package (spot the major component), and new wheels.
"All of the performance enhancements from Dime Racing create a unique track-capable experience that's bred from Dime's extensive experience in various racing series," the company explains. Yup, it's a track-honed, street-legal 745bhp AMG supercar.
There's no word yet on performance, but for reference, the GT 'R' will go from 0-62mph in 3.6s and top out at 198mph. Mansory's modified AMG GT will do 0-62mph in 3.4s and max out at 205mph. So that's the ballpark.
Only 100 of these modified AMG GTs will be built each year, and the first cars have already been reserved. The price? $150,200, with a "bumper-to-bumper" warranty. For that price however, you do also get a personalised Växjö watch from former F1 driver and 1997 Le Mans winner Stefan Johansson (he raced alongside Le Mans veteran Tom Kristensen), featuring matching serial numbers with the car.
Source: topgear.com