Movies like "Two Lane Black Top" and "American Graffiti" have helped to secure the 1955 Chevys place in hot rod movie history…movies that have left a lasting impression on the youth of this great country. Add to that the countless ground pounding 55 gassers that dominated drag strips all across American in the 1950s & 60s, and it's easy to see why Shaun Schroeder NEEDED one for himself.
Shaun knew he wanted a 55 he could drive the wheels off of with neck cracking performance, but also a car his wife could take out on her own without Shaun worrying about a break down. A solution of a "best of both worlds" pro-touring build came when Shaun teamed up with the crew at MetalWorks Classic Auto Restoration in Eugene, Oregon.
MetalWorks specializes in pro-touring builds and LS conversions, and from years of hands on experience they knew they could deliver exactly the type of 55 Shaun was after. Ironically MetalWorks' acid dipping facility had dipped a beautiful 55 body around 3 years prior that the owner had not started building yet. The 55 was still in bare metal, and in pristine condition…and better yet, the owner was willing to part with it. A deal was stuck on the 55 shell, and the ball got rolling on the build quickly.
To ensure amazing handling and performance, a dream combination of an Art Morrison chassis, and a brand new GM Performance supercharged LS9 engine were ordered. Making the build even more special is the fact that the chassis ordered for the 55 was the 1000th Tri-five chassis assembled by Art Morrison.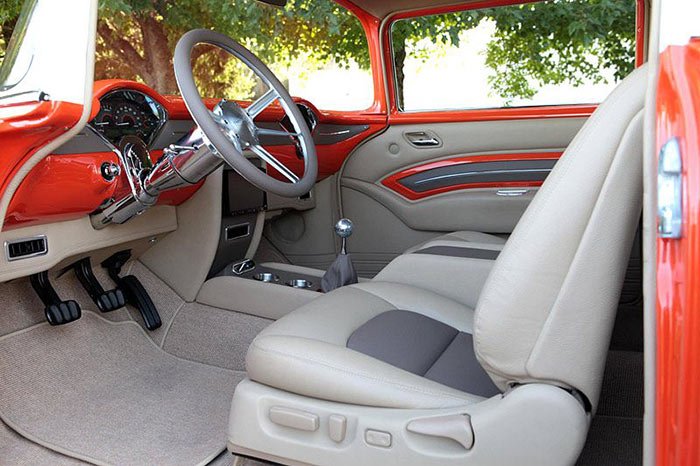 With components on order, the 55's sheet metal was body worked to perfection, then shot with several coats of Glasurit orange and white. Color choices were heavily influenced by Shaun and his wife being huge Giants fans. Once the paint was wet sanded and buffed to a mirror finish the body was joined to the chassis which had also received a full treatment in orange.
The LS9 engine was converted from a dry to a wet sump by the team at MetalWorks, then, mated to a TREMEC 6 speed manual transmission. With 638 hp at their disposal it was essential that the 55 have plenty of stopping power, so Wilwood 12.19" brake rotors with 4 piston brake calipers were installed on all four corners. The Wilwood brakes compliment the 17" & 18" Billet Specialties Legacy 2 G wheels.
Moving inside the 55 we find a full custom leather interior with a host of goodies including Dakota Digital gauges and electronic dual climate control. An 8" Alpine touch screen controls the 1400 watts of stereo and provides an excellent view for the backup camera.
The full list of components and features on the 55 is exhausting, but the combination of them created a classic car that is truly a dream to drive. With the same drive line as a 2014 corvette, the 55 has crazy power, but boasts the same reliability as a new corvette as well. To sum it up, Shaun has a car he can unleash hell with when he dumps the clutch and leave himself shaking with excitement after a white knuckle ride…but the same car can be driven cross country by his wife in luxury and comfort. Pro-touring done right is truly the very best of both worlds, and Shaun could not be happier with the end result.
1955 Chevy features:
– Art Morrison chassis (1000th Tri-five chassis built)
– GM Performance supercharged LS9 (638 horse power 6.2L) that has been converted to a wet sump
– TREMEC T56 (Six Speed manual transmission)
– Wilwood 12.19" brake rotors with 4 piston front & rear calipers
– 17 & 18 inch Billet Specialties Legacy 2 G wheels
– Full custom leather interior
– Dakota Digital gauges & electronic climate control
– Alpine 8" touch screen with back-up camera & 1400 watts of stereo
– Ron Davis radiator
– RICKs stainless steel fuel tank
– Electronic parking brake
– 3" stainless steel exhaust
– Billet Specialties hood and trunk hinges
– Raingear windshield wiper system
– Lokar billet pedal assembly
Source: www.metalworksclassics.com