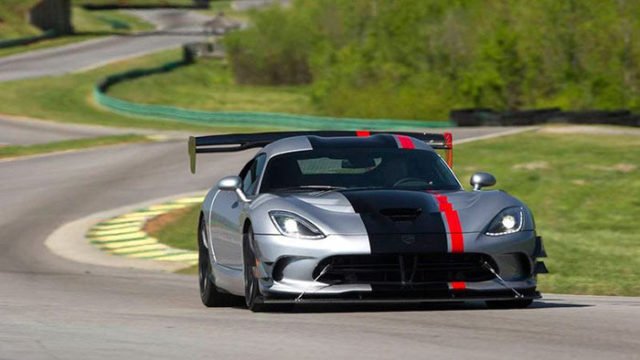 There are cars that are a legends, and the Dodge Viper is one of them. It has been winning races for decades.
For the last 20 years, a highly skilled group of workers have been building, much by hand, Dodge's V10-powered supercar.
But how do you make a legend better?
The Viper itself has been the performance halo for the Dodge brand for over 20 years and there's another legend built with inside that Viper – and that is the ACR.
When you think about the 2016 Viper ACR you really have to put it in historical perspective in the twenty-plus years Dodge builds Viper.
Do you remember the first Viper generation? The gen 1 Viper had 400 horsepower, had no air conditioning, no ABS, no traction control, had no windows… but its performance earned respect in the muscle car community.
Today the gen 5 Viper is a completely different car, with 245 more horsepower, managed with electronically dampend suspension and ABS traction and stability control. But don't think for one second that just because Dodge added a leather interior, cutting-edge infotainment and Harman Kardon audio system that it is not true to its full race car core anymore.
Under the hood in the Dodge Viper ACR lies the iconic 8.4-liter V10 OHV, carries over 645 horsepower (five less than the Chevrolet Corvette Z06, her main rival on the streets) and 600 lb-ft of torque. Dodge claims that is the most torque of any naturally aspirated sports car engine in the world, and it's connected to a six-speed Tremec manual transmission.
But the main difference is in the rest of the details, starting with aerodynamics, braking and suspension enhancements. All that makes the new Viper ACR a weapon of mass destruction for the road and the race track.
The 2016 ACR will likely feature the same aero ducting, large 74-inch adjustable dual-element rear wing which is one of the car's primary visual calling cards, rear carbon fiber diffuser with six removable strakes, unique hood and detachable front splitter extension as the concept introduced at SEMA 2014.
All that elements will generate an obscene amount of downforce – literally a ton at its top speed of 177 mph, three times the downforce of the Viper TA. The most aerodynamic downforce of any production car.
The Dodge Racing team and Bilstein developed the 2016 ACR new suspension technology with a fully independent manually adjusted suspension with 10-way rebound and compression and three inches of ride height adjustment.
Massive carbon ceramic brakes measure 15.4 inches with six-piston Brembo calipers in front and 14.2-inches and four-piston in back. The brakes work in conjunction with ABS and ESC specifically tuned for ACR to take into account the extra grip provided by the additional aerodynamics. Removable front brake ducts provide additional cooling to the braking mechanism calipers for the best possible track performance.
The Viper ACR will also retain 295/25-19 front and 355/30-19 rear tires (specifically designed Kumho Ecsta V720) fitted on matte black alloy wheels to add extra flair to the car.
The model can also receive package customization Viper, with the combination of materials, colors and wheels that can be as unique as its owner wishes.
This car is an awesome machine, and it's a fantastic ride for any of those who truly appreciate a track or the race car, but who want one in their garage for everyday city cruising also.