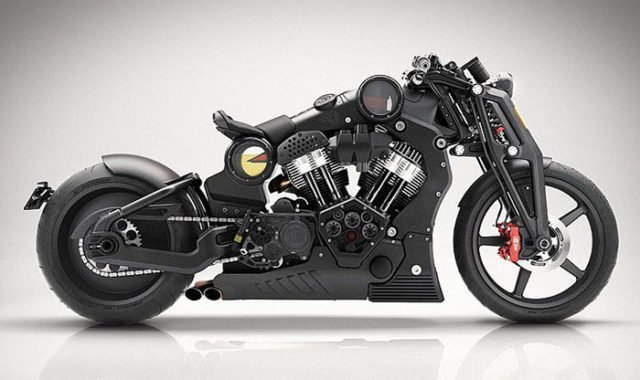 Confederate G2 P51 Combat Fighter is stoutly built, exuding a muscular power; an all-dude machine, the Rambo of motorcycles. It's brutal, built to last, reveal, and transform.
Like that steroidal action hero, Confederate's punchy prose is ideologically confusing. Confederate P51 Combat is just as distinctive if not a little bizarre. Neatly contradicting itself, the Fighter is also described as "Absolute power. It is pure irony in the palm of your right hand." Indeed.
We don't expect that you'll actually take it into combat. But the Confederate G2 P51 Combat Fighter Motorcycle does resemble something from a futuristic army.
The chopper-inspired beast is built entirely out of extremely durable 6061 aerospace-grade billet aluminum including the structural fuel tank, industry-first structural intake box that ties straight into the CNC'd structural intake manifold, and the unitized engine block and heads.
That monster of a V-Twin powerplant measures 132c.i. (2,163 cc) and produces 200 horsepower and 170 pound-feet of torque. Its wheelbase of 62.5 inches and 500-pound weight mean it's not likely to win any races on twisting asphalt racetracks, but you can bet it'll be plenty fast in a straight line… at least as far as its 3.75 gallons of gas will last.
It's expensive and classy, yet muscular and substantial—industrial art with a purpose, but also eye candy that functions a whole lot better than you may expect, especially in terms of handling.
There exists both beauty and brutality in the P51 Combat Fighter aesthetic and the way it rides you. It is the metaphor for American rebellion.
A total of 61 P51 Combat Fighter Special Editions are scheduled to be crafted: 31 in raw machined billet, and 30 in black. MSRP for the blonde is $125,000 USD; MSRP for the black is $130,000 USD. If you reserve yours by September 7, Confederate offers a $10,000 discount.